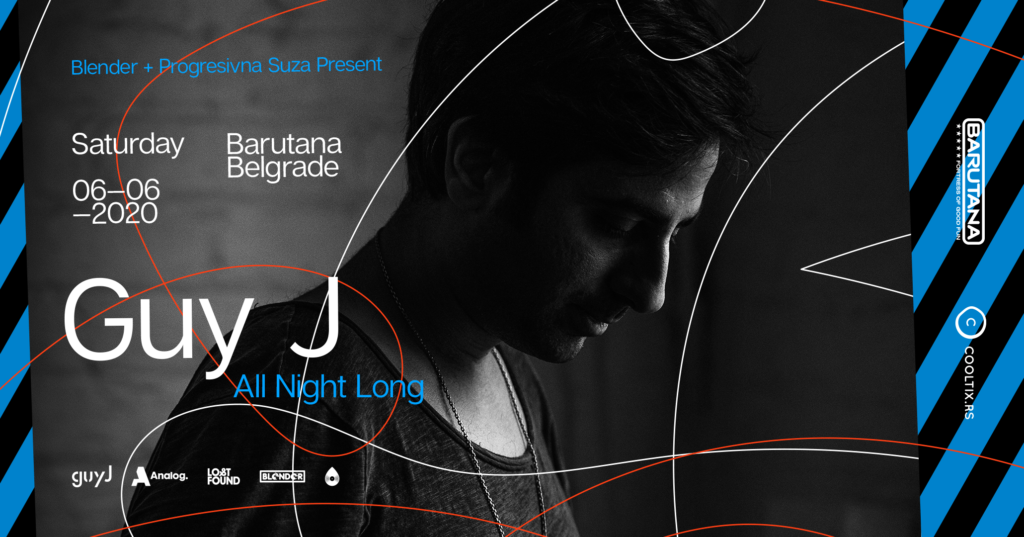 I produce all subgenres of house music, with elements of trance, but also the warm vibration of progressive house and the energy of old techno sound.
The first, exclusive all-night performance by Israeli producer and DJ Guy J, who is said to have exceeded even the craziest expectations of his colleagues and audience over the past decade, will take place on Saturday, June 6 in Barutana.
Guy J has the opinion that the real beauty of electronic music is that there are no limits and it can be shaped into what the creator wants. He uses this luxury with so much precision and care more than others.
Inspired by a desire to be part of Tel Aviv's rising club scene, and known for wild enthusiasm and unbridled atmosphere, Guy J began his production career at just 14, still following the same principle and creating each track as if it were his first.
At the beginning of his career, he was under the psy-trance and progressive influences of his homeland, and after a short period, he accepted all genres of electronic music, in order to give his production all the breadth represented by emotions that stimulate his creativity.
On his way to becoming one of the main artists of this electronic generation, Guy J has a large number of editions on the eclectic list of world-famous publishing labels. Making no boundaries has brought his genre-diverse Lost & Found label to the very top of the most important underground brands, and his sets are loved by everyone: house, techno and trance audiences.
Lost & Found is the jewel of Guy J's portfolio, a publishing label that celebrates diversity and shows the brilliance of veteran artists such as: Kevin Yost, Funk D'Void and Eelke Kleijn, as well as new talents such as Guy Mantzur, Sahar Z and Brian Cid. Guy J encourages new artists who are unconditionally dedicated to themselves and their music, and the result is that the catalog is best described as good electronic music in its purest form.



"I need to be honest with my feelings every time," says Guy J. "I produce all subgenres of house music and therefore always provide something original and unique to the audience on the podium." My music has elements of trance, but also the warm vibe of progressive and the energy of old techno sound. "
You can buy tickets through the Cooltix.rs website