After last year's remarkable All Night Long party, organized by Blender & Progresivna Suza, it's time to announce a spectacular Lost & Found night with one of the leading DJ & Producer of Israeli electronic music scene, Guy J, known for his unique sound and musical talent, who is going to perform for the jubilee 10th time in Belgrade. He will share the decks in Barutana with melodic wizard, Roy Rosenfeld, on 28th of May.
This, certainly, unforgettable party will be complete with our young rising star, Ognjen Cerović, better known as Hobin Rude.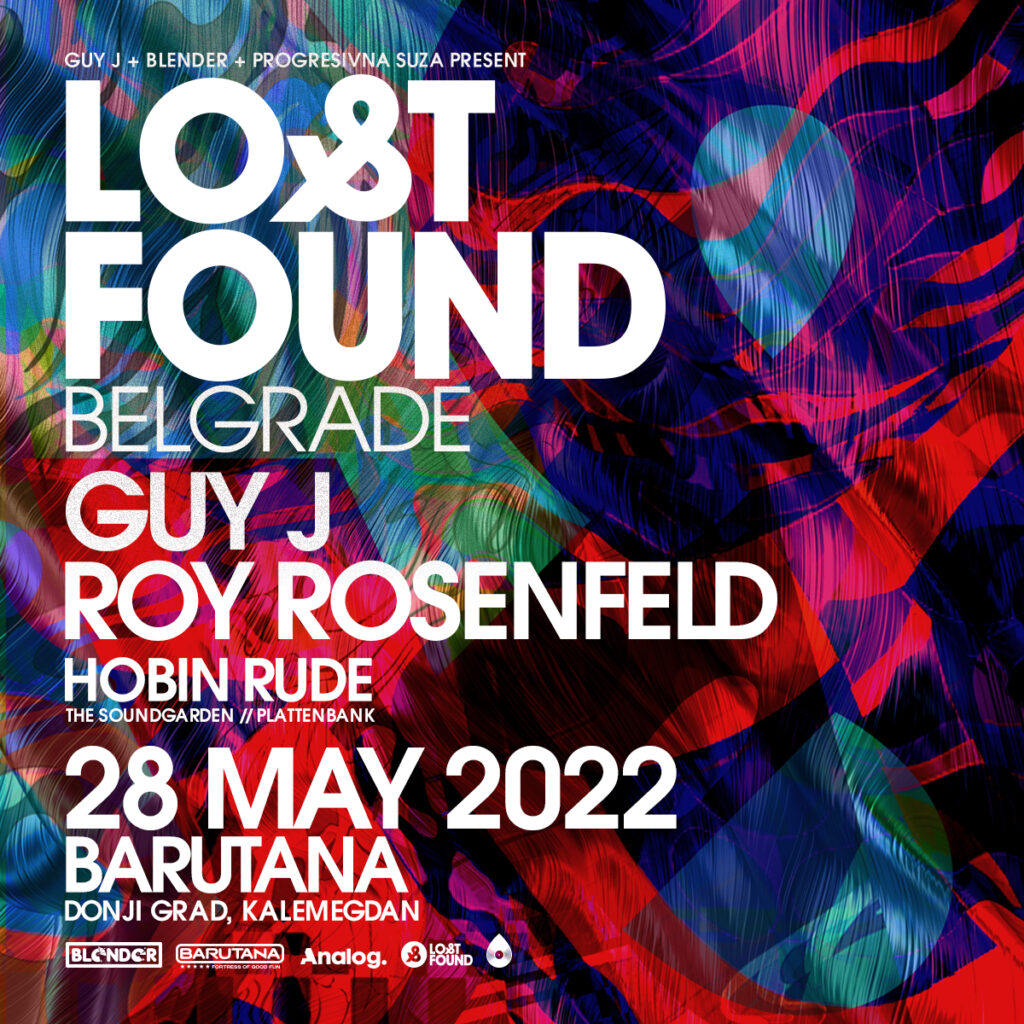 On the path of becoming one of the premier artists of this electronic generation, Guy J has amassed a vast discography showcased within an eclectic list of world-renowned labels. Initially influenced by his homeland and the worlds of psy-trance and progressive, Guy has grown to embrace all genres and establish a wide-ranging production style that represents the array of emotions fuelling his creativity.
Guy's disregard for boundaries has catapulted his genre-diverse Lost & Found imprint into one of the most highly regarded brands in the underground. The label celebrates diversity and encourages submissions that remain unconditionally true to the artist. The result is a catalogue best described as "good electronic music" — in its purest form.
His live and studio mixes are beloved by house, trance and techno enthusiasts and have helped propel his prominence globally. His sets are hypnotic treks through the entire spectrum of house music, composed with an assortment of originals, remixes and edits. Guy has the freedom to melt together melodies from all genres thanks to his production prowess and masterful touch with Ableton's revolutionary software.
Roy Rosenfeld is without a doubt one of the greatest talents in electronic music in Israel. His sound is unique and dripping with emotion that is hard to explain in words. His excellent production capabilities helped him to be a part of the leading labels around the world such as Lee Burridge's All Day I Dream, Guy J's Lost & Found, Guy Gerber's Rumors and the German label The legendary Kompakt, and his reputation only soars with every one of his releases that sees air.
Roy has signed quite a few broad anthems such as Epika, Lift Of Love, The Biggest Heart, and a number of successful collaborations with Sebastien Leger such as: Creme and Cherry On Top. Having many top hits in the sales charts, winning contests and awards, and collaborating with some of the most respected artists, had all gained Roy massive recognition and support by major superstars, such as: Solomun, Dixon, Lee Burridge, Black Coffee, Guy Gerber, Maceo Plex, Richie Hawtin, Laurent Garnier, Michael Mayer, Guy J, Hernan Cattaneo, John Digweed, Luciano, Stephan Bodzin, Joris Voorn and many others.
He's a die-hard fan of long sets in which he manages to bring the audience to extreme levels of excitement and you can be sure that on the event where he perform, he will also bring with him an exceptional set.
Hobin Rude (Ognjen Cerović) is a 23 year old Serbian progressive house DJ/Producer based in Belgrade. As an embodiment of passion and dedication, Hobin managed to gain an impressive foothold in the worldwide Progressive scene within a short amount of time. Having succeeded to sign and release tracks with worlds prestigious and well known record labels such as The Soundgarden, Plattenbank, Mango Alley, Hoomidaas, Sound Avenue, Manual, onedotsixtwo, Freegrant Music, Balkan Connection and so on, he managed to get the support from worlds biggest artists like: Hernan Cattaneo, Nick Warren, Guy Mantzur, Armen Miran, Solarstone, Gabriel & Dresden, Nora En Pure, Antrim, Nicolas Rada, Fernando Ferreyra, DJ Ruby, just to name a few.
He played on events in Barutana, DOT, half, TIME:CODE Organization, Ben Akiba, 25th Bar, KPTM and on places all around Serbia, performing alongside artists like Coeus, Navar, Jelly for the Babies, Amata, Bokee, DJ Acim, Igor D, Lukai, Migazz, Popi Divine, Suprema, and so on.
Tickets for Lost & Found night are on sale through the Cooltix online platform. The first phase is 10€ for regular and 14€ for VIP ticket.
For more informations follow Official event.