Jesse Joel Pollocks (Kyotto) was born and brought up in Colombo, Sri Lanka. With 13 years in the industry making music, learning and exploring various genres Kyotto has at long last found his home in the underground dance music scene by being motivated and inspired by musical craftsmen like Guy J, Kasper Koman, Dosem, Khen (to name a few). Kyotto is not at this point a stranger to the universe of electronic music as his music won individuals love rapidly with his energetic grooves and uplifting melodies. He also had the support from top notch DJs like Hernan Cattaneo, Nick Warren, Armen Miran, Alex O'Rion, Sahar Z and many more. Music always has and always will be locked in his heart so expect a lot more music by Kyotto on the way!
Hello Kyotto, how are you? It's great to have you here with us. What crazy year we've seem to have left behind. How have you adapted your career during the whole situation with the pandemic?
Hi Progresivna Suza, it's great to be here!
Indeed what a sad year we've had and my condolences goes to every families that were affected. Despite the fact that I love remaining a good vibe constantly, the change was really extreme for me, at the outset it felt okay, yet, when the pandemic happened, it most likely affected us all intellectually and when lockdown began, it blumbled up my creativeness due to the absence of motivation from not having the option to associate around people I love. Yet, while time passed, I began utilizing the spare energy, I needed to try new things and simply keep fixed on examining music, and finally there was the light for us, music sweethearts, when live streams began and it was absolutely a distinct advantage and aided us all to get back that motivation to create more incredible music.
What was it like changing from live shows to livestreams, are there any favorite streams of yours or you would like to share?
I've had the experience of one of those "basic home" live streams from a couple of years ago which kind of gave me the idea of how it would feel like. You can say that I wasn't a total stranger to the change as it happened but the experience of playing in a live stream after the pandemic was a lot different. Live streams grew rapidly and was in no time a trend so the change was a different sort of experience but a very good one! I feel like the change led us more closer to the world in many ways by showing all of us a fresh new way to enjoy our favorite DJs around the world while being safe and sound at home. Yes, I most certainly do have some streams to share.
Let's now talk about your beginning. Can you tell us what were some of the experiences that first brought you into electronic music? Who inspired you to start producing music?
Music has consistently been a part of my life, with having been grown from a very musical background. At the age of 4, I was given my first piano where I figured how to play a set of chords by ear. This is how my journey in music started.
I started music production in 2008 when I was introduced and gifted "FL Studio" by a close family member who was already in Sri Lanka's music business at the time. He showed me around the software and I managed quickly, pick it up from there and it felt like a huge upgrade from a piano to an entire scope of various sounds which made me fall deeply in love all over again. Over the years I have tried various different genres to improve my style and sound and have finally found home in house music.
Where was your first gig? What was that experience like?
This was definitely a very special day for me. Taking us back to the first gig was actually along side Kintar which took place in 2016 at Waters Edge Colombo. No words, just an amazing experience. This was the first time I made a debut and the reaction was beyond expectations. It was also an honor to be sharing decks on the finest islands at the time. Last but not least, the crowd! What amazing energy they cultivate on that dancefloor, its an amazing feeling that words can never explain.
Did you have any expectations or goals when you first started producing and DJing?
Since a child my fantasy was to be a somebody doing music full time and earning enough to pay the rent out of it. It all began with teaching myself the piano, after that I began training myself on production, writing, singing and even dancing. Anything I desired to be, everything had something to do with music. My objectives currently is to continue to stretch myself to the edge on each and every track I make trusting that each outcome will pay off.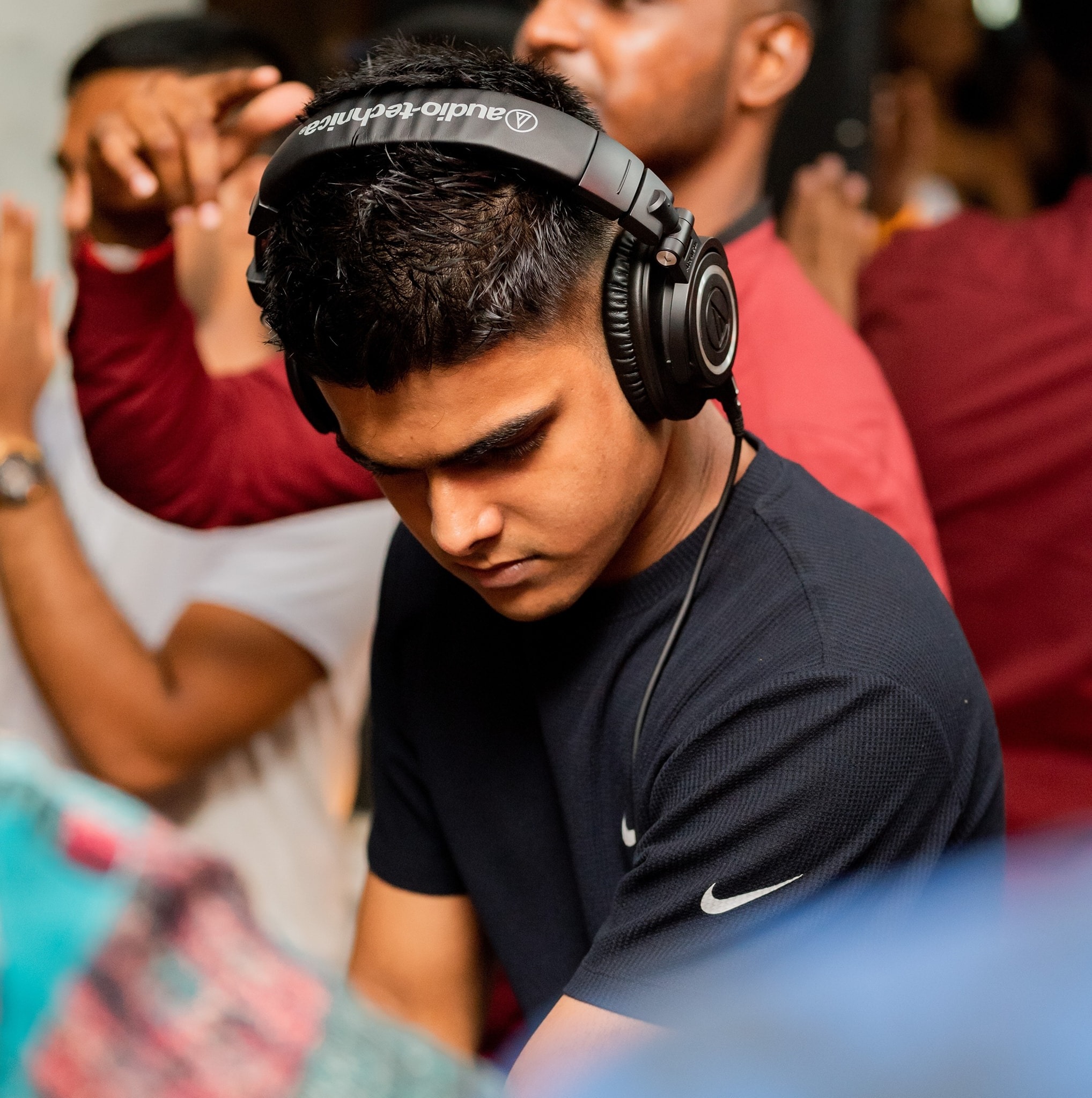 What do you think are the biggest changes you've seen in yourself as an artist and DJ since your beginning?
The biggest changes I've found in myself as a producer is the difference in quality in my sound. Since the beggining, it was most likely a battle since I self trained my path here and at the time there weren't any instructional exercises on YouTube at that point, so there were things I knew and some I didn't. However, my main aim at the time was consistency, I would skip school to stay home just to finish a track or to start on a new one. As a DJ, once upon a time I began with birthday celebrations, weddings and partook in DJ Competitions which assisted me with developing alot as a DJ. Sometime after that, I began playing at nearby clubs in Sri Lanka, then at that point moved to Dubai to work. No matter what I never left music behind I began delivering and playing in Dubai too where I acquired some regard with occasion coordinators which drove me to play in some well known areas. That is when Kyotto was born (2016). Now I am back home in Sri Lanka spending incalculable hours making music and making progress toward significance. The greatest changes as a producer, it has without a doubt been a lengthy, difficult, yet fun experience and through the manner in which I've been producing various different genres from orchestral to Techno which really assisted me with growing my insight on how every genre/sub genre functioned. That was until I found Progressive House, I am a gigantic enthusiast for uplifting melodies, smooth rhythms and various different sounds of synths and this genre had everything. A lot of changes throughout the way but the changes did good to me for me to keep on evolving and growing.
How do you think the Sri Lanka scene is for Progressive House? Has it grown/changed over the years?
When I came back to Sri lanka from Dubai, in 2018, the progressive house movement was doing really good. The island had it's fair share of music considering artists like Dimuth K and Subandrio. I can also say, it has been growing and expanding continuously up-to date with a handful of super upcoming talents, contributing to the island and developing their passion towards the industry locally. By far, I'm proud to say that I have been a part of this movement as well and will keep being a part of it.
Can you describe your studio and the equipment software or hardware that you use to produce your amazing music?
Nothing too fancy here. A basic home studio with some room treatment. As for the software I find it very comfortable to use FL Studio since I have been using it for a long time but I also find myself going to Ableton and Adobe Audition to use some of the amazing features those DAWs have to offer too. But all in all, FL Studio is where all the magic happens for me. Unfortunately I do not own any Analog synthesizers yet, since it's incredebly hard to get music equipment down to Sri Lanka. For the moment I am very happy with my M-Audio Code 49 midi keyboard where I have mapped all my plugins and DAW controls for ease of use and more control, a pair of Yamaha HS8 studio monitors, Audiotechnica M50x headphones, Novation Launchpad S and a Rode NT1A if vocals are needed.
Your track "Would you be there when the world fails" is definitely one of the best tracks so far from 3rd Avenue. Can you walk us through the production process?
Thank you! This track always makes me proud, from the time of production till now. I took a different turn with this EP wanting to explore melodies connecting with how I felt. It was surely a rough patch for me at the time due to some personal events that took place which eventually locked me down into various mental illnesses. Music was my only escape. So I sat one night playing the piano and I came up with this chord progression which felt a lot of emotion. Keeping that drive and motivation, I quickly hopped into the production process and started on the drums, experimented a lot of various drum styles and random sounds to create that ground to help the chord progression flow. The first version of the track was beautiful but didn't quite deliver the message I wanted the track to deliver, I thought about vocalists as that's one precise way to express the real feeling of the track, that was until I randomly just started playing a lead where I immediately fell in love with. The lead sound is layered by three different bass patches with eq, saturation, compression and delay making it stand out and really express the feelings it needs to express. I started the lead on a lower octave then increased the octave while the track progresses to bring out that uplifting emotion. I had no clue at all that this track would reach the heights like it did and looking at all the feedback and love I got from this track has really changed me as a person and helped me out of a lot of things! I finally feel great and fresh and for anyone who is currently going through hard times right now, always remember that there's more to this world that we don't see yet, there's always a brightside and I promise you we will all be there when your world fails. 🙂
What matters most to you in the music you share or create?
Love and unity! Good music brings people together. There is a lot of great music releasing consistently these days with styles spreading various feelings and energy which thoroughly intrigues and motivates me to join in the fun too. The music I create is inspired by the music I share.
What are the biggest challenges you face as an artist in the industry right now?
So far so good, I'm overwhelmed with all the help and support from all the great people around the world and especially the amazing people here in Sri Lanka who really love this beautiful genre we all call progressive.
Do you have any goals for your future music career?
Of course! As far as I've come I have continuously been challenging myself with new heights of goals. One day, have to release a track on the massive Anjunadeep! Since the start of my career I have always got inspired by a lot of music from this label and will continue to. Eventually, all the music we create as artist comes down to playing them to your fans. And this always pictures in that one big stage which defers between artists. Mine being Warung Beach. This space has certainly been a main element in the underground movement and is definitely among one of the stages that I would love to perform soon. Fingers crossed!
Thank you so much Kyotto on this conversation. Do you have any final thoughts for our readers?
Spending countless hours on production these days so tons of music coming your way! Especially a set of free downloads! Make sure you're following me for all the latest updates.
Thank you for all the love and support! Especially thanks to Progresivna Suza for having me! I hope one day we all cross paths!