BLENDER HOUSE PARTIES series of online streams in its sixth edition brings us a holiday weekend special called Progressive Garden, in which a veteran of Belgrade clubbing Popi Divine will take turns at the DJ desk in the courtyard ambience on May 1st and 2nd, from 6 pm to 10 pm along with a younger team of local DJs, Lukai and Igor D. from Progresivna Suza and Sale Božić.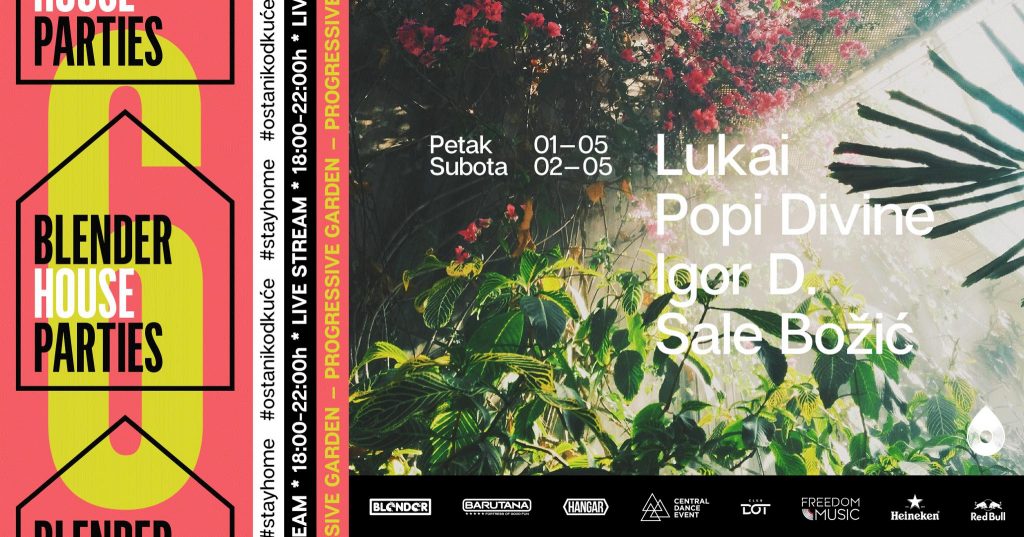 Popi Divine took his first steps in the turbulent times of the Western Balkans in the 1990s. He started out as a Pop DJ, searching for his style and wandering through electronic music, only to eventually find himself in deep and progressive. As the global sound changed, Popi added a bit of groove, electro and acid to his style. Today, his music is open and unlimited, but it can basically be characterized as house. Poppy is also working on live projects with members of the Wonder String Quartet, as well as with Belgrade rock band FeI Rhi. He founded his record label Industrial records ten years ago, together with his partner B-Like. Five years later, he was listed as a finalist in the global Burn Residency competition in Ibiza, as a representative of Serbia, while in 2016 he started the Hot Tub project with the talented and young producer Mark Antoine aka Manton.
Luka Ivanović Lukai made his first contact with electronic music through drum'n'bass, under the great influence of the British team LTJ Bukem, Goldie, Big Bud. During the nights spent in clubbing, he discovered the power of techno and progressive sound, which had a strong influence on the formation of his musical taste. He found his place in the music industry in 2012, when he started organizing Belgrade Lounge parties. Two club seasons later, Lukai started to accelerate with his work and got frequent bookings, where he played alongside world names such as: Henry Saiz, Guy J, Cid Inc, Nick Warren, Dmitry Molosh, Petar Dundov and others. Today you can find him at Progresivna Suza parties, as well as behind the DJ desk of clubs such as Barutana, DOT, Half, 25th Bar and KPTM.

Igor D. is well known to members of Progresivna Suza and has been on the scene since 2008. He is a big fan of progressive house which can be heard in his sets that are filled with emotion and continual rhythm. In his career so far, he has had the opportunity to play music with performers such as: Lehar, Magdalena, Max Demand, Guy J and Guy Mantzur, and he was also part of the Exit Festival, as well as the Tuborg Green Spot event. Today you can hear him at events of the clubs DOT, KC Lab, Half and 25th Bar.
DJ Sale Božić from Šabac, went from a talented competitor in solfeggio, to a DJ. His affinities range from funk and disco in the 70s and 80s, to modern house, where soulful represents the greatest love. In his sets you can hear a wide range of music and its directions, imbued with the current trend of deep, deep tech and progressive variations, spicy disco, funk and latin sounds.
Blender House Parties # 6 – Progressive Garden
www.facebook.com/events/537789150445071/

Follow our channels on social networks and find out about new activities and upcoming episodes of BLENDER HOUSE PARTIES!
Be responsible and stay home.
#ostanikodkuće #stayhome #savethesumme
At the end of March, the Blender team launched a series of online parties – facebook live streams, called BLENDER HOUSE PARTIES, through its digital communication channels, due to the impossibility of realizing regular club programs in the coming period, which are a consequence of spreading COVID-19 virus infection and emergency measures implemented on the territory of our country.
All programs and content are adapted to the current situation and available on social networks: Blender, Barutana, Hangar, Central Dance Event, DOT and Freedom Music Serbia.
Streaming will be available through the following platforms:
www.facebook.com/blenderletsmixit/

www.facebook.com/barutanabeograd/

www.facebook.com/hangarbeograd/

www.facebook.com/CentralDanceEvent/

www.facebook.com/dot.belgrade/

www.facebook.com/freedommusicsrbija/