Progresivna Suza will celebrate second birthday in the way the current Covid situation dictates, through online streams which will last three days from December 4th to 6th via our  YouTube channel. 
In honor of the unforgettable celebration of our first anniversary, we are preparing the second one together with great guests! In collaboration with the Underground Milano we will listen to the highest quality performers who will heal your body and spirit in the exhausting 2020.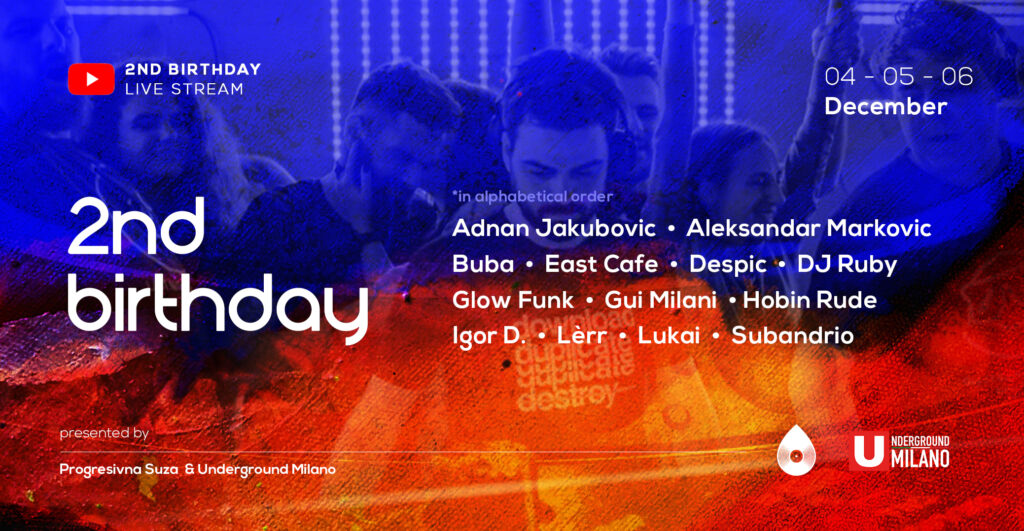 The indispensable trio of the Progressive Tales Podcast Lukai, Igor D, Aleksandar Marković will perform with the support of great friends of the community Despic and Hobin Rude. Great producers and performers from Montenegro will also join celebration of our second birthday, so Buba and Lèrr will present stuning b2b set from the coast of the neighboring country! Also with us will be Adnan Jakubović, another producer from the ex Yugoslavia republic who currently lives and works in Germany.
A foreign lineup will make up an amazing list of performers! Gui Milani comes to us from Brazil whom fans could get to know better in a conversation for the Progresivna Suza website and from the island of Malta,  performer who was a big wish for this event, the famous DJ Ruby. The first guest of our organization at the beginning of 2020 was East Cafe which responded to the invitation with a smile on his face this time as well, and from the coast of Sri Lanka, a country where progressive is very well positioned on the music scene, the globally popular Subandrio and his compatriot Glow Funk are coming to us.
The streams will be organized from Friday to Sunday every night starting at 6 pm Central European Time.
You can see all the informations on our pages:
Progresivna Suza Facebook Page

Progresivna Suza Facebook Group

Underground Milano Facebook Page